Information wanted | The First T-Top
1) VIN #194378S400015
2) Believed to be the first Corvette T-Top ever built
3) 427,275 T-Tops were produced from 1968 through 1982
4) T-Top launch was delayed until February 1968 (around VIN #10,000)
5) Rumored to be a pre-producton (pilot car) "escapee"
6) Rumored to be body development car at Milford Proving Grounds
7) Delivered new to Buffalo Zone office (dealer code 0 in zone 12)
8 ) We believe this car was used by GM photographic/PR to produce the following advertisements, a) the car that talks back, b) 10 seconds to lift-off, c) the "convertible" coupe, d) sports car winner of the Motor Trend 1968 Achievement award. See photos
9) Past owner of 24 years from western New York.
10) April 6th, 1967 original motor pt #3914678
11) May 24th, 1967 motor assembly date
12) NCRS birthday book shows VIN #15 produced September 1st, 1967 but we believe it was actually built much earlier.
13) Does anyone remember this car?
14) Does anyone have information on this car?
Click here to view photos
email: [email protected]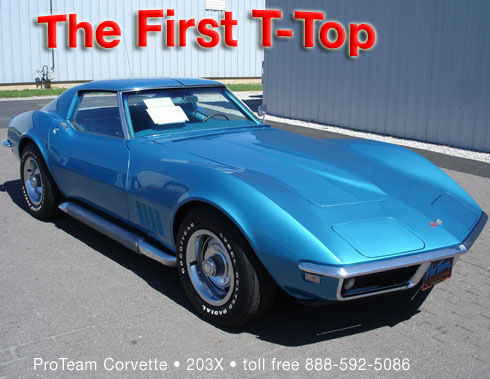 The First T-Top | 1968 Blue